Our

Services
Oakleigh Cases LTD manufactures to specification bases on measurements of equipment allowing for sufficient padding and divisions if needed. This simple calculation allows us to design and manufacture Bespoke Flight Cases or Custom Foam Inserts to ensure your equipment is protected for transport. Our highly experienced design team has a 3 dimensional vision, able to visualise the case and how best to protect, present and help promote your equipment. Our Factory has a range of machinery including CNC Routers and Laser Cutting Machines to ensure millimetre accuracy.

We at Oakleigh Cases are always happy to accept custom requests from customers with there own designs and drawings for custom foam inserts or CNC cutting. We also offer laser cutting service and Engravings. Send us your enquiry via email along with drawing file in either .ai .dfx .pdf formats and it will be our pleasure to quote you for the job.
Custom Flight cases:
We offer maximum protection and practical solutions for industry professionals who use our flight cases on a regular basis. Our custom flight cases are designed to be used and built to last in storage, transit and on site...day in, day out.
Oakleigh cases are designed and manufactured in-house in the UK and the customisation options are infinite. We can meet all your requirements from a simple transport case to complete bespoke systems with engraving, logos, screen printing, cable traps, doors, divisions, trays etc.
Our team will work closely with you to ensure that you get the product and service you expect,
in the quickest time possible, at a competitive price.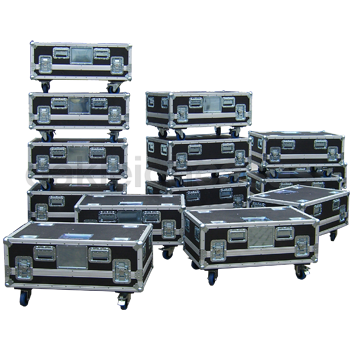 Custom Rack Units:
Our Custom Rack Units are designed and built to last and offer you the flexibility to work the way you want to. From 1U stacking sleeves through to complex 42U racks built to house event production systems, each unit is made to do its job in the most efficient way possible.
We can offer a range of features include shock mounting, engraving, front & back lids, 3 lids, stacking, overlatching, ventilation, spigot mounting, castors and much more. Call us for more details.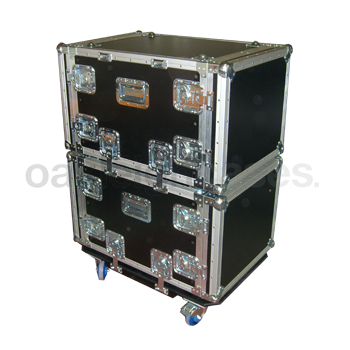 Custom Foam Inserts:
A custom foam insert will ensure your equipment is organised, fully protected and professionally presented. Our design team will work with you to ensure your inserts meet all your requirements. We manufacture inserts of all shapes and sizes for a huge range of equipment, from small electronic products and medical equipment to 60" plasma screens, projectors and military weapons. Our foam comes in a variety of densities and colours.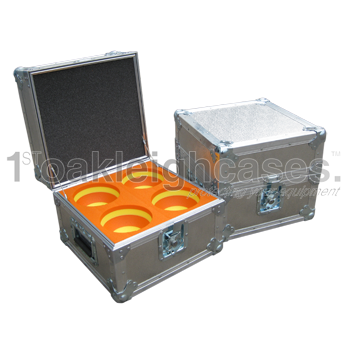 Custom End Caps:
End caps are a functional and cost effective way to protect your equipment during storage and transit. Stripped back to the bare essentials, end caps save material, cost and weight whilst keeping your kit safe. We manufacture end caps in large quantities in quick turnarounds.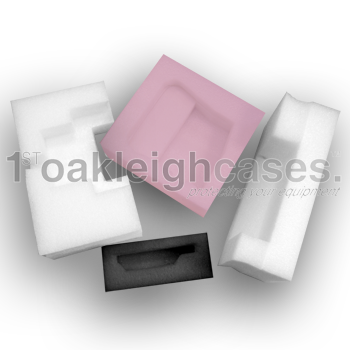 CNC Cutting Service:
We CNC machine wood laminates, MDF, Foam and Plastics for many different applications.
Our CNC cutting service is perfect for small or large scale projects for:
- Signmakers
- Event Planners
- Exhibitors
- Interior Designers
- Construction Industry.
We offer quick lead times, exceptional quality and professionalism and competetive pricing. Contact us for more information.